Uni Cryo 660
Universeflex Cryo 660 hoses are designed for use with cryogenic products at temperatures down to -200°C and pressures up to 25 bar.
Universeflex Cryo hoses has been designed around multy-layers of Polyimide films, polyester films, reinforced with inner & outer wire spirals in Stainless Steel. Additional Polyester and PP fabrics, and specific bi-oriented Polypropilene films are provided to guarantee flexibility even at minus 200°C, ensuring the assemblies better performances than other type of hoses or loading arms, when accommodating for vessel movements during transfer operation. Universeflex Cryo hoses includes in the construction FEP/Polyimide and Mylar® films, to provide excellent thermal, physical and chemicapl roperties over a wide temperature range in a lightweight package making thema superior choice for rigorous insulation applications. Universeflex Cryo hoses are manufactured according to EN 13766:2010, in 2 types: Type 1 for LPG and Typef o2r LNG, each type is subdivided in two classes, one for onshore use (Class A), and one for offshore use (Class B).
To transport LPG or LNG gases it is standard economic practice to liquefy them either by means of pressure or refrigeration. Hoses for this application must be ductile at low temperatures. Universeflex Cryo hoses for liquid gas transfer form an important part of the extensive range on non-metallic flexible hoses offered by the Universeflex division of Matec group. The hoses are certified by DNV as complying the requirements of CE Directive 97/23 "PED" and are made to comply the requirements of EN13766 Lloyd's Type approved; Paragraphs 5:4 and 5:7 of the IMO Gas Carrier Code, and 5:3 and 5:7 of the IMO Chemical Carrier Code. Meets EN, CE, PED, U.S. Coast Guard requirements. Atex Certification Directive 94/EC on request.
Cryo 660 LG is suitable for transferring fully refrigerated conveyants such as LPG, Propane and Buthane down to -105°C, as well as liquid Ethane at and liquid Ethylene. Suitable for fluids included in Chap XIX, Gas carrier Code.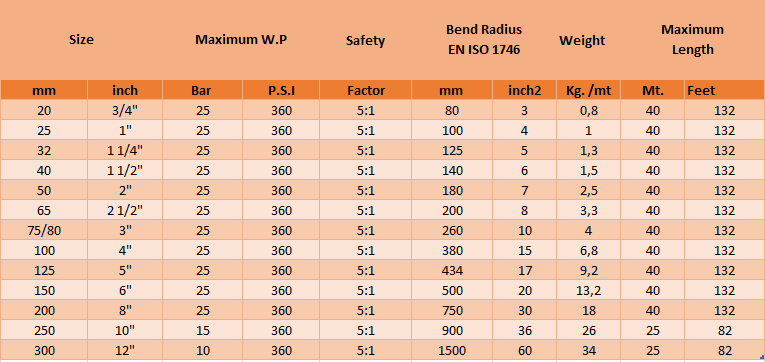 Cryo 661 N hose is suitable for handling LNG Liquefied Natural Gas, Liquid Methane and liquid Nitrogen at -200°C.
Universeflex Cryo hoses assemblies are tested, in accordance with EN ISO 1402. The ferrule is embossed, with manufacturer's name, nominal bore, serial number and test date. Burst pressure indicated, is at ambient temperature when tested in accordance with EN ISO 1402. Electrical continuity is achieved by the two wires bonded to the end fittings, this helps dissipate accumulated charge and to avoid static flash. The electric resistance of hose assemblies is less than 1 ohm/mt, as required by EN ISO 8031:2009 – 4.7.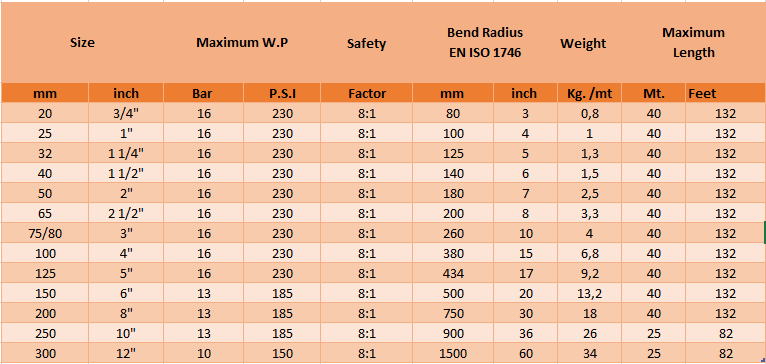 CRYO Nanogel® – Patented design by Matec® Group
Flexible Universeflex Hose With Integral Insulation Vapor Barrier For Sub-Ambient And Cryogenic Application.
Nanogel is a flexible aerogel blanket insulation with an integral vapor barrier. It is engineered to deliver maximum thermal protection with minimal weight and thickness, and zero water vapor permeability. Nanogel's unique properties, extremely low thermal conductivity, superior flexibility, compression resistance, hydrophobicity, and ease of use, make it essential for those seeking the ultimate in thermal protection for cryogenic applications. Using patented nanotechnology, Nanogel insulation combines a silica aerogel with reinforcing fibers to deliver industry-leading thermal performance in an easy-to-handle and environmentally safe product. Nanogel's extremely low thermal conductivity reduces heat gain and its inherent flexibility makes the product durable and resistant to mechanical abuse. Additional protection(Aramex braid and PU Redthane cover) on the outer diameter is available to mimimize the abrasion damages and for further protection and insulation. Cryo Hoses with Nanogel patented insulation, can achieve an outer temperature of 23°C on hoses carrying LNG at -175 inside.
Advantages
Superior Thermal Performance.
Up to 5 times better thermal performance than competing insulation products.
Reduced Thickness and Profile.
Equal thermal resistance at a fraction of the thickness.
Zero Permeability due to Integral Vapor Barrier.
Provides ice formation on outer diameter.
Physically Robust.
Soft and flexible but with excellent springback, Nanogel® recovers its thermal performance even after compression.
Eliminates Expantion Joints because it remains flexible even at cryogenic temperatures.
Environmentally Safe.
Landfill disposable, shot-free, with no respirable fiber content.
Flexible hoses are usually uninsulated due to severe stresses of cycling between ambient and LNG (-175°C) temperatures. This can result in heavy ice formation during operation, and dangerous ice falls during the subsequent warm up. Cryo hoses insulated with Nanogel are impervious to cryogenic cycling.