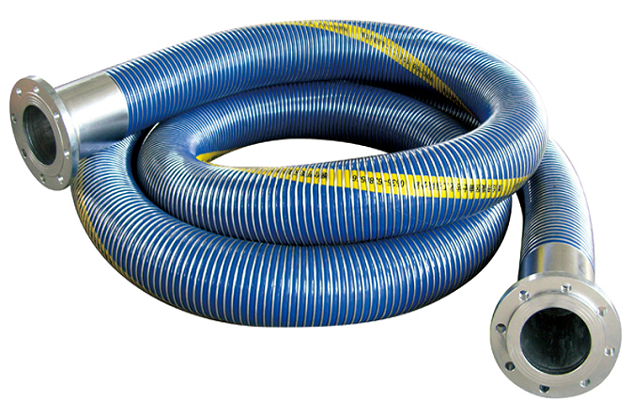 Uni Chem 700
Uni Chem 700 is a multi-layer thermoplastic hose manufactured from Polypropylene, Polyethylene and Polyester films and Polypropylene fabrics, with a weather-proof and abrasion resistant outer cover made of Polyvinyl coated Polyester fabric. Outer cover is also available in Elastothane, a special PU coated fabric; its UV, Ozone, Sunlight and weathering resistance, offers superior temperature and abrasion characteristics.
All the different layers are wrapped together and tensioned between internal and external wire spirals. This enables our product to meet the requirement of the Petrol-chemical industry and those of the Oil & Gas industry.
Universeflex Chem assemblies are fitted with an extensive range of couplings readily available, externally swaged with crimping ferrules.
Universeflex Chem assemblies are tested at 1 1⁄2 times rated working pressures for safety and reliability, in accordance with EN ISO 1402. The securing ferrule, at one end of the hose, is permanently marked by engraving, with manufacturer's name, nominal bore, the hose assembly serial number and the test date. The marking of hose assemblies is made in compliance with Ped Directive (97/23/ CE). Full test certification can be supplied on request.
Universeflex Chem hoses can be supplied in the Firetec version with ADR self-estinguish CL1 cover and additional fireproof layers.
Burst pressure indicated, is at ambient temperature when tested in accordance with EN ISO 1402.
Electrical continuity is achieved by the two wires bonded to the end fittings; this helps dissipate accumulated charge and to avoid static flash. Upon request it's possibile to manufacture Universeflex Chem hoses in accordance to the Directive 94/9/EC "Atex", with a special outer antistatic black cover and ground connection cable, for explosive environment.
Universeflex Chem 700 HD and CHEM SD are chemically compatible and mechanically engineered to handle a wide range of hazardous chemicals. Extremely flexible, easy to handle and bend, all hoses are 100% aromatic resistant, antistatic and can be used for suction or discharge. Vacuum rating is 0,9 bar, according to the EN ISO 7233 method B.
Uni Chem 700 HD –Heavy Duty
Applications:
Heavy Duty construction for the transfer of a wide range of chemicals under suction or pressure. Used for Ship to Shore and Ship to Ship, Dockside and in general for the most ardous Industrial and Marine applications.
Construction:
High strength polypropylene and polyester films and fabrics, high density polyethylene films reinforcement, includes in the construction an high density UHMW PLT seamless tubular extruded film, to avoid any possible leak and guarantee a gas-tight construction, Polivinyl coated polyester cover fabric, (or Elastothane upon request) weather and ozone resistant. Available in 40 mt coils from 3/4" to 8" and 25 mt length up to 12". Universeflex Chem 700 HD hose assemblies are certified by D N V as complying the requirements of CE Directive 97/23 "Ped" and are manufactured in accordance with the requirements of Par. 2:12 and 5:7 of the IMO Chemical Carrier Code. CHEM 700 HD hoses are Type approved by Lloyd's with Certificate n° 13/002.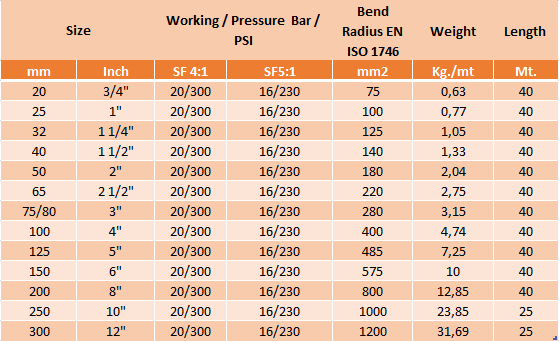 Chem SD – Standard Duty
Applications :
General purpose Standard Duty hose suitable for the safe transfer of a wide variety of chemicals under suction or pressure. Commonly used for loading and unloading of road and rail tankers, storage tank and in-plant applications. Suitable as flexible terminal hose for Top Loading arms. Available in 40 mt coils from 1 1/2" up to 8".
Construction:
High strength polypropylene films and fabrics, high density polyethylene film reinforcements, Polyvinyl coated polyester fabric cover, weather and ozone resistant.

Vaporchem LD – Light Duty
Applications:
General purpose Light Duty hose, is ideal for use for petrochemical vapor recovery systems in Ship to Shore, Ship to Ship, bottom loading and tank truck operations. Complies with USCG Marine Vapour control system 33CFR Part 154.810
All Universeflex hoses are 100% Antistatic – Electrically continuous, meets the EN, CE, AS, U.S. Coast Guard requirements, NAHAD Guidelines, are Lloyds and DNV approved and ATEX certificate can be released on request.